Home Remedies for Hair Growth: Are you really tired of trying chemical-based products and drugs on your hair to restore its natural glow?
Are you finding it hard to manage hair problems?
If the answer to the above questions is 'Yes', then read on to find some important facts about hair growth and simple remedies that both men and women can try at home without much effort or expenses.
Common Reasons Often Lead To The Hair Loss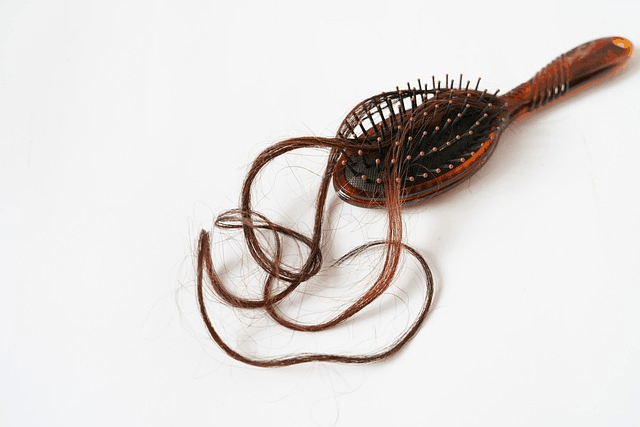 Before starting the series of alternatives to boost new hair growth, it is essential to understand the causes of hair fall and have a receding hairline. While some medical complications such as anemia (iron deficiency) and drug consumption during a treatment session in the past can result in rapid hair fall, there are some common reasons that often lead to the hair loss in the majority of people.
Dandruff, scalp dryness, and flaking
Overexposure to pollution and sunlight
Improper hair caring
Dryness due to lack of oiling, conditioning, and moisturizing for an extended period
Irregular diet habits and lack of nutrition
Using harsh chemicals for coloring, hair straightening, curling, etc.
Frequent use of strong chemical-based shampoos
Home Remedies for Hair Growth
If you're experiencing hair loss due to one of the reasons mentioned above or others, here are some useful Home Remedies for Hair Growth.
Oil Treatment:
The natural essential oils such as rosemary, lavender, sage, thyme, and jojoba are rich in medicinal properties that help to boost hair growth.
Rosemary and lavender oil have therapeutic properties that help reduce stress, which is one of the causes of hair loss.
Jojoba moisturizes the dry hair. Mix these oils and massage your scalp gently while applying small portions of the mixture.
Wash your hair normally after an hour. There is no need to apply shampoo.
If you have fungal infections on the scalp and dandruff issues,
Take approximately 25gms of fenugreek seeds,
About 10 buds of hibiscus, and dried alma pieces.
Bring about 100 gems of coconut oil to boil and add all these contents and lower the flame for about 15 minutes.
Now remove from flame and allow cooling.
Strain the oil, pour the oil in a glass bottle, and cover with a muslin cloth.
Keep it in the sunlight for 10 days.
Now apply this preparation to the scalp and entire hair once a week and wash with shampoo.
Indian Gooseberry: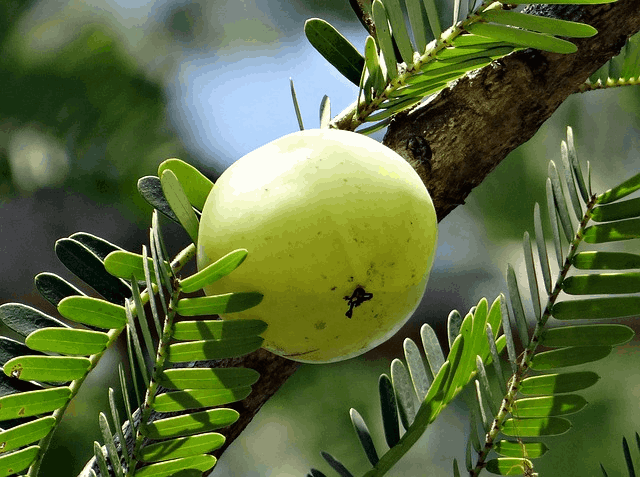 Indian Gooseberry or Amla is excellent for boosting new hair growth as well as it's strengthening them from the root cells.
The best way to do this is to extract the fresh amla juice, apply it to the hair's roots, and massage slightly.
Amla juice is very sticky, so do not exert too much pressure while massaging.
Henna And Amla Powder
You can also use amla powder in a henna pack made from henna powder, egg yolk, and yogurt.
Apply this pack every week to the scalp and the hair and keep it for 45 minutes.
Now wash your hair and use a herbal shampoo.
You can also replace your regular conditioner with a two to three spoons of honey diluted in a bowl of water.
Wash your hair with this mix after shampooing.
If you have gray hair problems as well, then
Cut the fresh amla into small pieces and dry them.
Now heat about 100gms of coconut oil in a pan and add these dried amla pieces and bring to a boil to char down these pieces.
Now strain the oil and allow cooling.
Apply this oil to the hair and the roots once a week. After 30 minutes, wash your hair using a natural shampoo.
Eggs:
Eggs are high in protein content that help to strengthen the keratin texture of your hair. While it is primarily recommended to eat eggs every day to provide protein to your hair follicles, you can also directly apply them to your hair.
You can use a hair pack by mixing one egg yolk to a quarter cup of fresh yogurt.
The quantity has to be increased in case you have too long hair.
Apply the pack to the hair evenly and leave it for an hour before washing.
Cover your hair with a bathing cap after applying the mask.
Make sure to drain off the extra water from the curd or yogurt to make a thick paste that will stay on the hair.
Wash the hair properly to remove the traces of the pack entirely and use a herbal shampoo.
Apply conditioner after that.
If you are not comfortable with the hair pack, you can mix
Two tablespoons of olive oil to two egg yolks and make a fine paste.
Apply it over the scalp and leave for 20 minutes.
Now wash the hair properly to remove the traces properly and use shampoo and conditioner.
Lemon Juice:
Dandruff is considered a major cause of rapid hair loss. Lemon juice is a rich source of vitamin C and folic acid that helps to get rid of dandruff from the scalp.
Add a few drops of lemon juice to coconut oil and mix properly.
Massage this mixture over the scalp properly in a circular movement.
This will help to reduce the stiffness of the scalp and help the new hair follicles to come out.
Keep the hair tied for 30 minutes and allow the oil to penetrate.
Now wash off the hair and apply shampoo and conditioner.
If you are sensitive to coconut oil or have dry hair problems, you can use olive oil instead.
Olive oil will bestow shine to your hair, making it smooth and glowing. Do not use high lemon juice concentration in the mixture. The high acid concentration of lemon juice can lighten the natural hair color.
Trying the above-mentioned Home Remedies for Hair Growth will help you to regain the volumes of hair you have lost over the period. Once you start following these measures, you will notice small strands of new hair on the scalp.
Never wash your hair with hot water.
It will cause your hair dry and frizzy. Ensuring the best nourishment with regular caring, oiling, scalp massage, and others will help retain them from further shedding. Consider an oil-free health diet habit rich in protein to strengthen your hair. Remember, a healthy system is a secret to gain beautiful hair. Ensure drinking plenty of water, fruit juices, and green tea to ensure toxin release from within to cleanse the system and keep your scalp moisturized. Always remember to trust natural hair care measures to maintain black, lustrous, dense hair.
Onion Juice:
This is understandably not the most preferred method due to the fear-factor of tears and irritation caused to the eyes when around onions.
However, it has been shown to be a fantastic way of providing growth to the hair as noticeable in many recorded cases.
The science behind it is due to the high levels of sulphur in which onions carry, which naturally boosts collagen tissues' production.
Once the collagen has taken place through your body, episodes of regrowth and even prevention of gray hairs take place.
Any red onions and shallots will do the trick, and it's essential you grate and squeeze them down to tiny pieces to provide you with enough juice ensuring there are not thick pieces left.
Once applied, leave for around 30-40 minutes then rinse off with shampoo in the shower or bath.
Also Read: All You Need To Know About Stress
Treating Receding Hairlines for Men And Women
Is it really possible?
Will my hair ever look the same again?
Of course, it will! Thanks to modern technology, there are many solutions to this common problem.
However, it's also essential to analyze which option is best for you.
In this section, we'll be answering:
1) Why many of us have receding hairlines
2) What is the "Norwood scale"?
3) What treatments and after-care options are available
Many people like to spout the myth that restoring your hair to its former glory is impossible, that nothing works, or that it's downright dangerous. Fortunately, these claims hold no truth. Unlike many years ago, when FDA approved treatment plans were lacking, forcing hair loss victims to buy magic beans from snake oil salespeople, there are now many clinically proven remedies on the market.
A human hairline will usually begin receding at the age of 15 years, though this can occur much later in life for some, and never happen at all for a lucky few. Sadly, most of us will recede, as balding affects an average of 70% of men and 40% of women. Constantly worrying about your hairline, for example, looking at yourself too much in the mirror, will only make it disappear faster.
Why is my hair receding?
Hair loss is usually a result of the aging process or a genetic weakness to DHT. As we become older, we lose many of the vital cells our body needs, and as they decline (which is also induced by stress and anxiety), our hair declines with it (either by going grey and/or bald). It's also based on genetics passed down to us by our parents, grandparents, and even more distant ancestors, which makes our hair follicles more susceptible to DHT's effects. You'll tend to discover that if your grandparents have thick locks of hair when they're older, you'll have healthy hair also.
There are several rumors which state that you take your "hair" from your mother's side of the family, though this has recently been proven false.
Other reasons for hair loss include a lack of nutrition, stress/anxiety, and the use of wrong chemical-containing shampoo. Quality shampoos and other vital hair-care products are listed for sale through our Hair Treatments & Hair Growth Products pages for your convenience.
Norwood-Scale: What is the Norwood scale, and what level am I?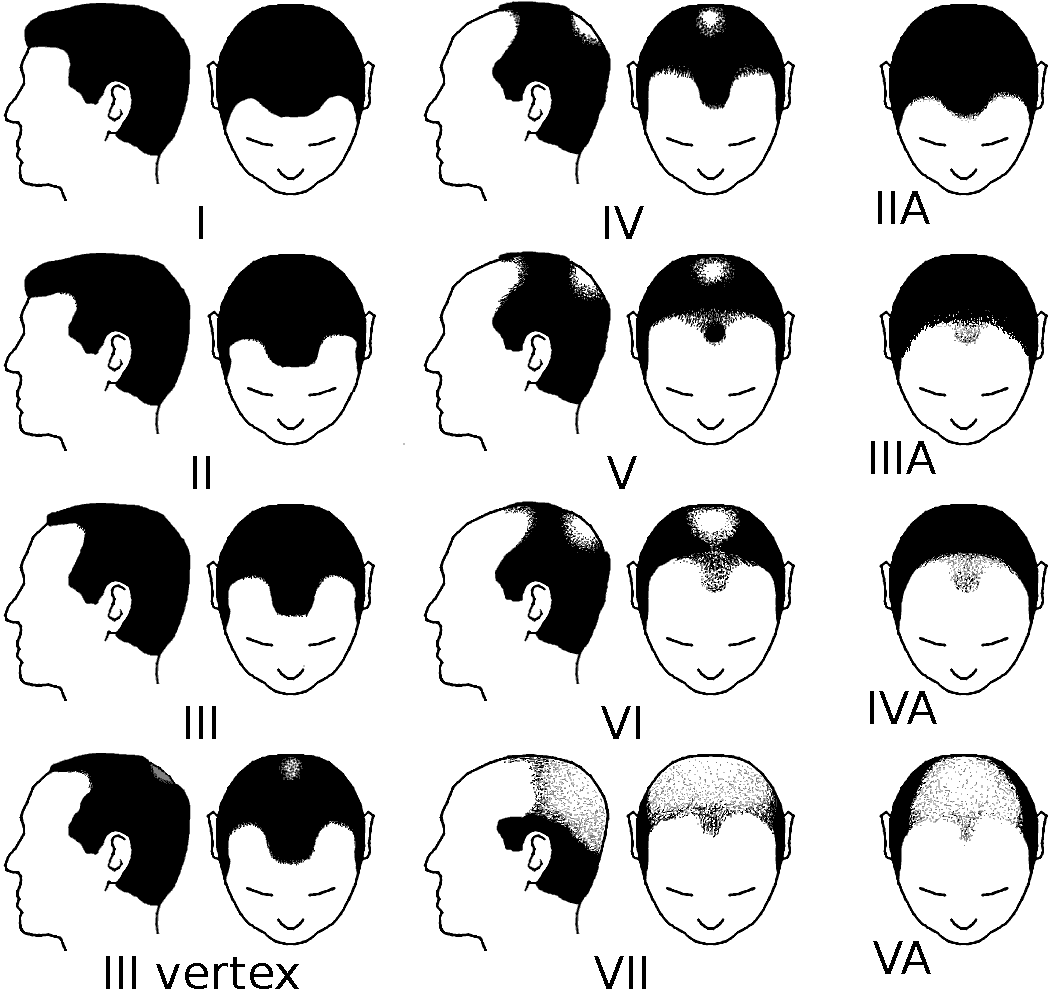 The Norwood Scale is a famous measurement of recession formed by Dr. James Hamilton in the 1950s to help people understand how far their hair loss has progressed. Today it's used by many organizations and professionals all over the world. Someone's "Norwood" level is dictated as a number from 1 to 7 (most often written in Roman numerals). A similar hair-loss scale known as the Ludwig scale exists and aims mainly towards balding women. This shows hair loss beginning and progressing from the "parting" though it's rarer for women to lose as much hair as their male counterparts.
The Norwood scale has 8 levels and can be described as follows:
Norwood 0
– No hair loss present
Norwood 1
– Minimal hair loss (either coming from the "crown" or the front "hairline" generally on one side or both)
Norwood 2
– Hair loss advancing further back on the temples, thinning of the crown is present
Norwood 3
– Prominent recession of the hairline and balding on the crown
Norwood 4
– Larger areas of hair loss coming from the crown and temples
Norwood 5
– Both areas (temple & crown) are starting to meet, showing signs of total baldness on the top
Norwood 6
– Only several hair strands now remain, while the "bridge" has totally vanished
Norwood 7
– Is the main final stage of hair loss, and by now, only a tiny strand of hair is left
What are my options?
There's a wide variety of treatments available at your dispense. However, it's about knowing which ones are appropriate for you. Men and women have different variations available and are to take different dosages of the medication accessible. Other options, apart from drugs, include:
Hair Transplants
Wigs
Laser Comb/ Therapy
Hair Cloning (a new technique, still currently under testing and investigation)
Growth Supports (despite having "growth" additives, it will not guarantee any improvements)
Home Remedies for Growth
Please take note that these medications will realistically only slow-down the hair-loss process and may not reverse it for all individuals.
Medications available for men ONLY include:
Dutasteride
Finasteride (Propecia)
Minoxidil (Rogaine)
Medications available for women include:
Minoxidil (Regular Strength Rogaine)
Tags
Must Read: Six Common Barriers to Happiness
Image by Fuzzy Rescue from Pixabay